Product information
USB SPY RECORDER. Appearing like an ordinary watch, no one would suspect that it is a recording device. Guaranteed that no one would notice while you're recording a class lecture, a meeting or any conversation, since this has NO LIGHT or any noticeable feature. The recording time lasts up to 20 HOURS.

MP3 PLAYER. Save your favorite songs. Plug your headset and you are ready to go. Charge it for an hour and you can enjoy 15 HOURS of non-stop music time. You can also directly listen to your recordings, no need to plug on a computer.

8GB USB. Use it like a normal USB flash drive. Save your homework preparations, office presentations, and important files. It is fully compatible Windows 2000/ XP / Vista / 7 / 8 / 10, Mac OS.

EASY TO USE. Instruction are easy to follow, simply slide the switch on and it starts recording after a few seconds. To start a new recording, turn it off and on again. Note that when the headset are plugged in, it automatically playbacks your files. The device won't record if the headset is plugged in. To charge, simply plug it into your computer through a usb cable.

OTHER FEATURES. The voice recorder is TIMESTAMPED and upon proper setup can be VOICE ACTIVATED.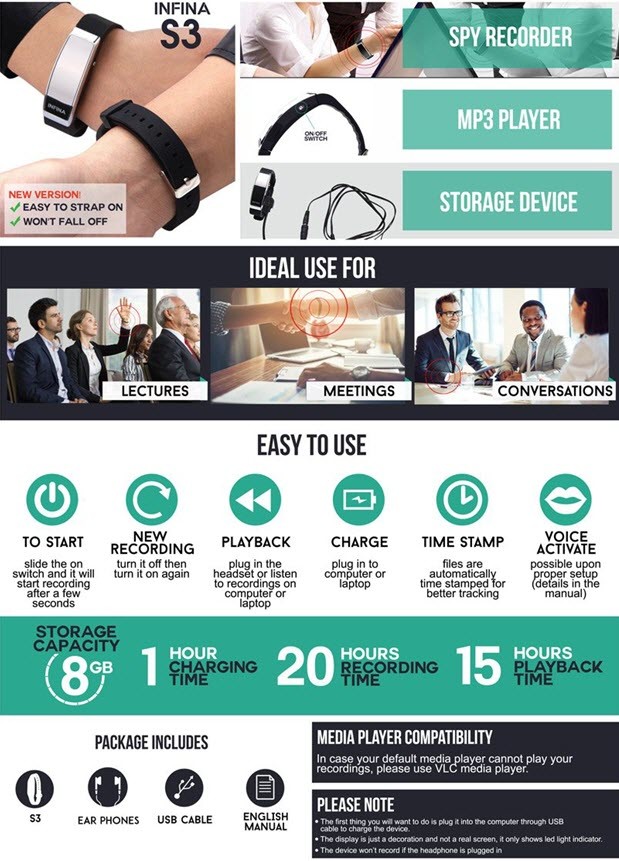 • Great for schooler to record lecture in classroom. Great for recording a meeting also. You can hear people talking all the way across the room, and hear them clear as day.
• It pick up voice very well while moving. You can feel free to wave your arm when recording.
Specification
• Flash Memory: 8GB
• Recording Format: WAV
• MP3 Player: Support MP3, WMA, WAV
• System Support: Windows2000/XP/vista/7/8/10, Mac OS
• Rechargeable Battery: Charge 1 hour, and it will last 20 hours recording and 15 hours during playback.
Are the file timestamped
Connect the recorder with computer, and find the folder named "Settime". After click "Settime" you will see the App named "Set Digital Recorder" ( The app is only compatible with Windows, not Mac ). Click the app, then your audio file will be correctly timestamped. ( Note, if the recorder's battery is fully discharged, you might need to sync time again with your computer. ) Please also note: if your recorder miss the settime folder, please reach us through your buyer account, or directly download the app from Infina Recorder official website.
Special Information For Mac / Windows Users
If your computer can not play the audio file, please google "VLC Player for MAC " or "VLC Player for Windows", and download it. After install the software, please open the audio file with the VLC Player.
Package Included
1 x Recorder braclet
1 x Earphone
1 x USB cable
1 x English manual
Please Note
• The first thing you will want to do is plug it into the computer through USB cable to charge the device.
• The display is just a decoration and not a real screen, it only shows led light indicator.
• The device won't record if the headphone is plugged in
| | |
| --- | --- |
| Item Weight | 3 pounds |
| Product Dimensions | 5.8 x 3.6 x 2.6 inches |
6954 Total Views
2 Views Today