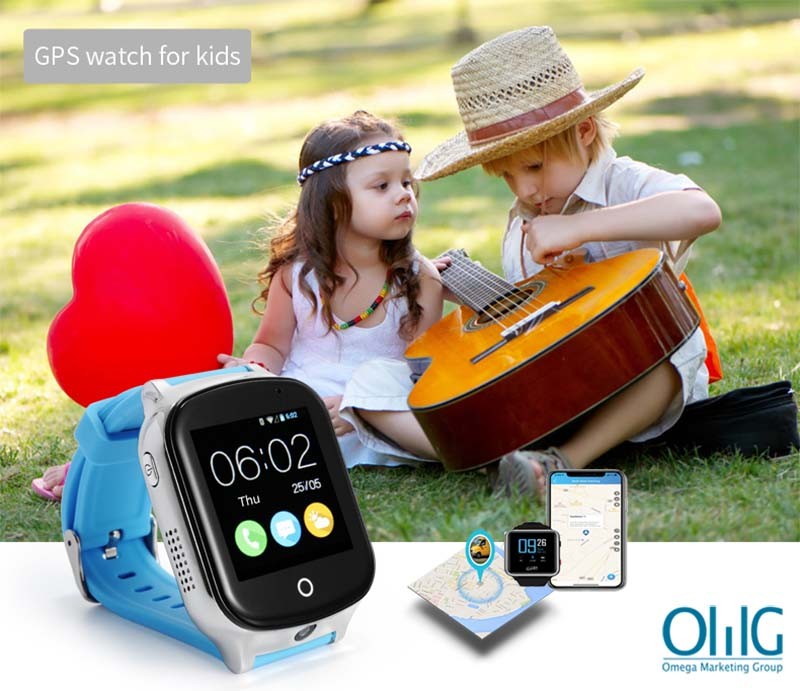 GPS tracker watch for children are designed to give parents or carers peace of mind about a child's whereabouts. It's not always easy to keep both eyes on active youngsters, and GPS tracking is the next-best way of keeping track of them and ensuring their safety.
Promotion:
     * S$198 (6 Months warranty) – usu $248
     * FREE Setup and Training
         Whatsapp +65 8333 4466 to Order!!
         Same Day Delivery (Order today  & get your item today)  – S$15
Stylish 3G GPS Watch is a new generation of GPS tracker gadget with multiple positioning modes GPS+WIFI+LBS, which can be use for children, adults, elders, disabled and etc. It works perfectly anywhere all over the world. This tiny gadget is not only a watch, a GPS tracker, it can also work as a mobile which can make phone calls! It is also equipped with functions, such as camera, step counter, weather report, phone call, remote voice monitoring, historical route track, geo-fence, voice chat and so on!
Main Functions:
GPS+WIFI+LBS Multiple Positioning Modes : The device can automatically recognize the positioning network and switch the positioning mode automatically too, indoors using WIFI/LBS positioning mode while outdoors GPS positioning mode. (Support Google Map)
Phone Call: Besides serving as a GPS tracker, the device can also work as a mobile phone to make phone calls!
Historical Route Track (Footprint Record): The movement route of the GPS holder in the latest 3 months will be recorded for future checking, so you can track all the places the GPS holder has been to,easier to find the lost, such as your kids, elderly, family beloved ones or luggage, valuables, pets, cars,motorcycles and etc.
Electronic Fence Alarm (Geo-fence ): You can set a safe area( the GPS wearer as center) to keep the watch wearer inside the area, when the GPS holder gets out of the safe area, the device will automatically raise an alarm in your phone application.
Remote Voice Monitoring (Listen in): In the application—settings, you can set a monitoring number, when you select the "Remote Voice Monitoring" function, a command will be sent to the GPS device after which the device will call the monitoring number automatically, (if you are the owner of the monitoring number)then you click to answer the call, and you can hear the sounds around the GPS device while the device side can not hear you at all! With this function, once your kid is in dangerous situation or your pet is far away from you, you can hear what is happening around them!
1.54 inch Touch Screen.

Camera:

Support photo taking, fun and fashion.
Step Counter: a good company for sports and health.
Weather: just a single tap to find out your local weather condition.

Voice Chat:

you can have a voice chat with your beloved ones using the smart watch.
No monthly fee (support both pre-paid & post-paid).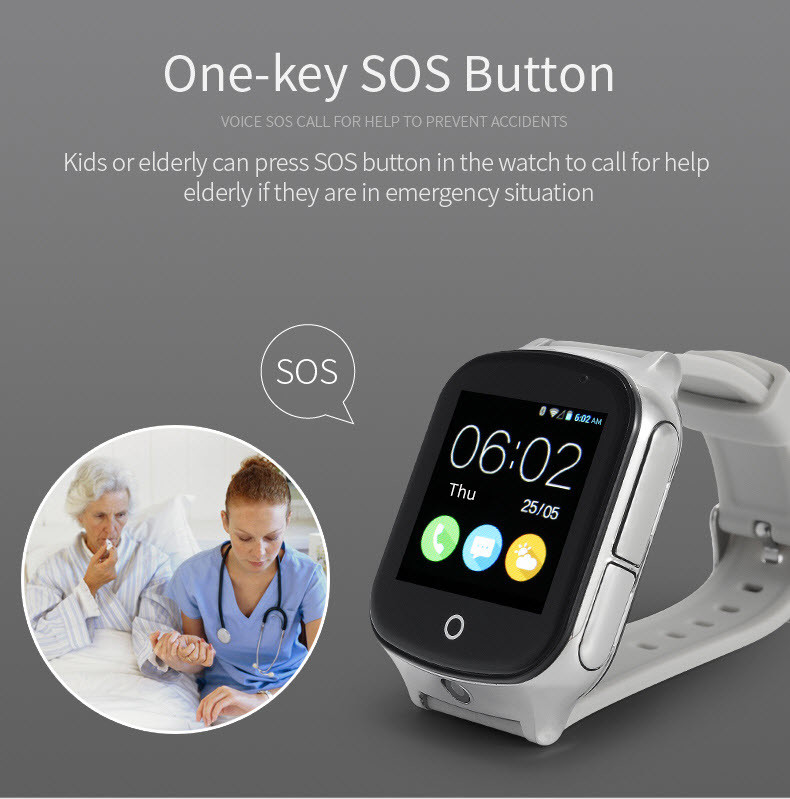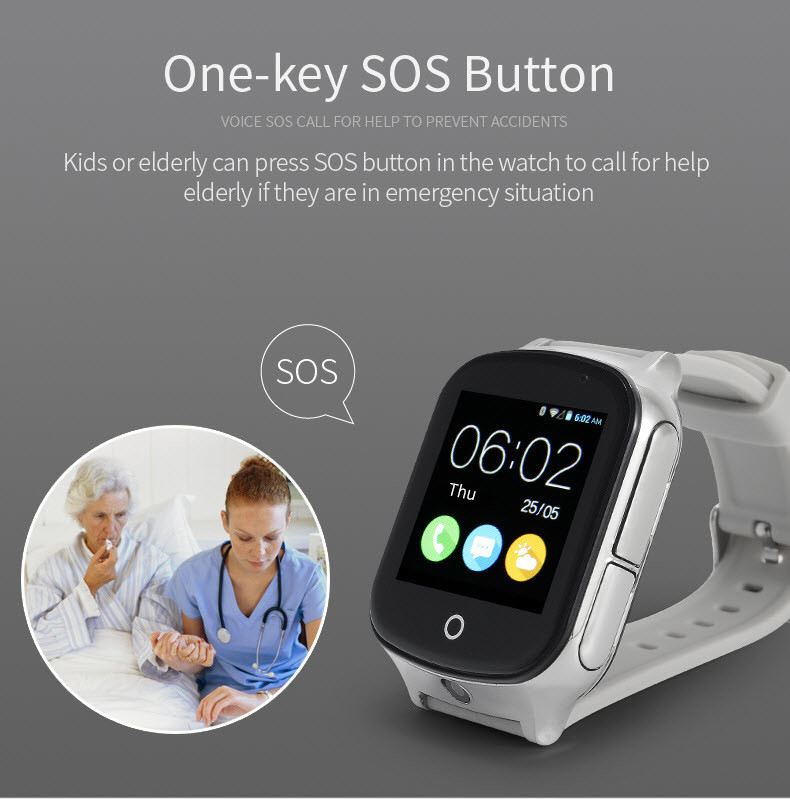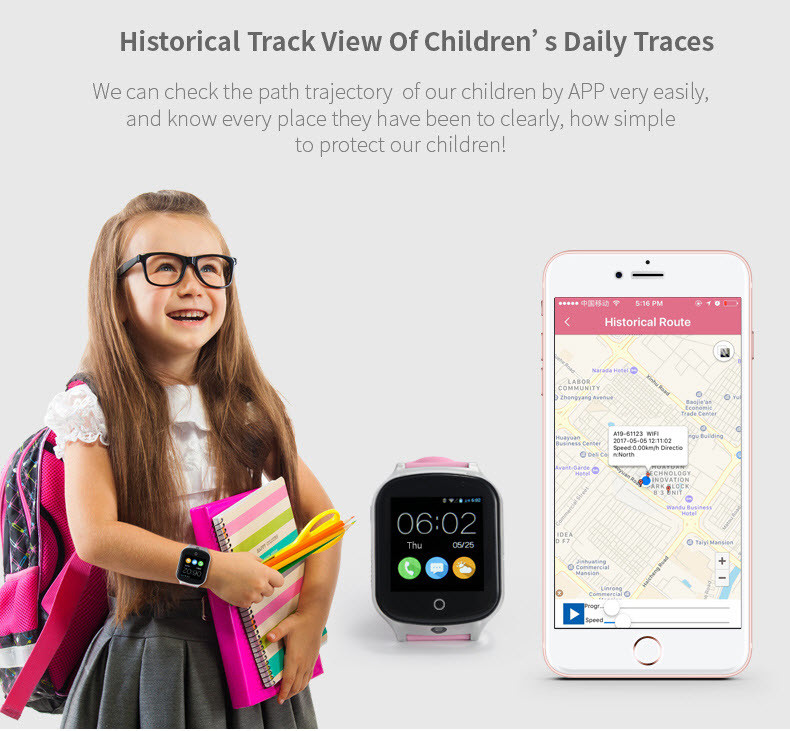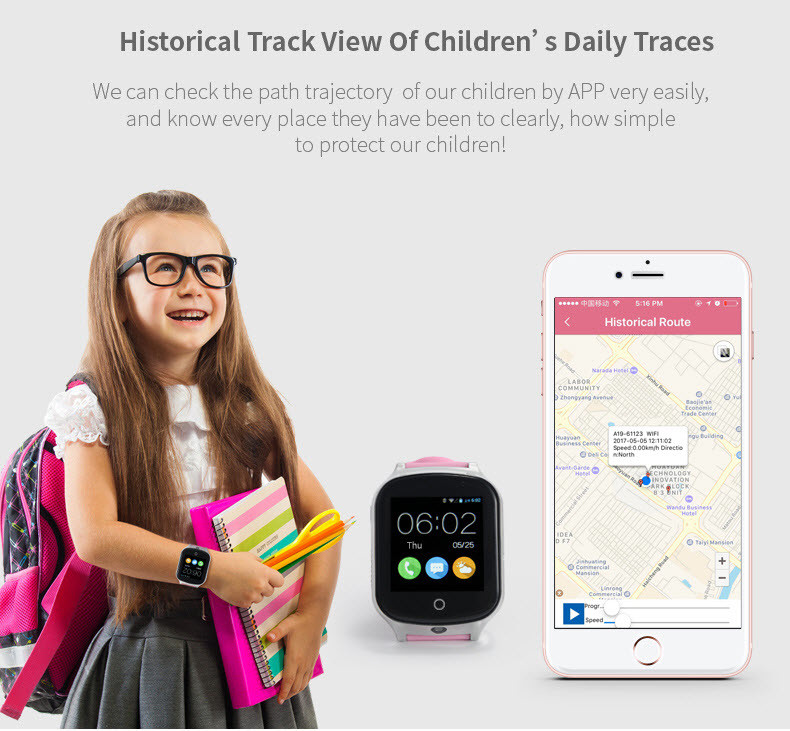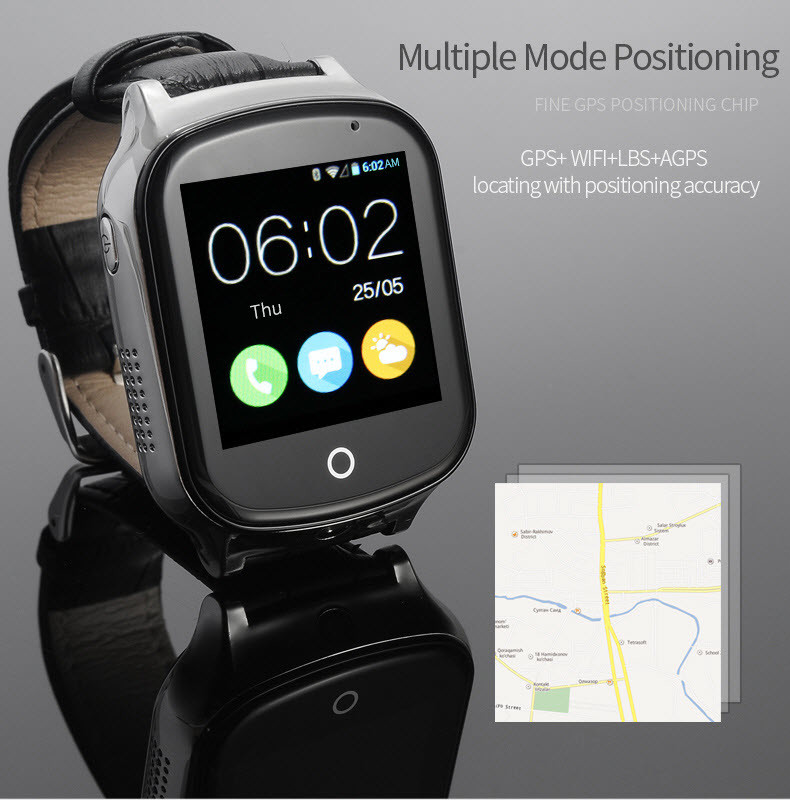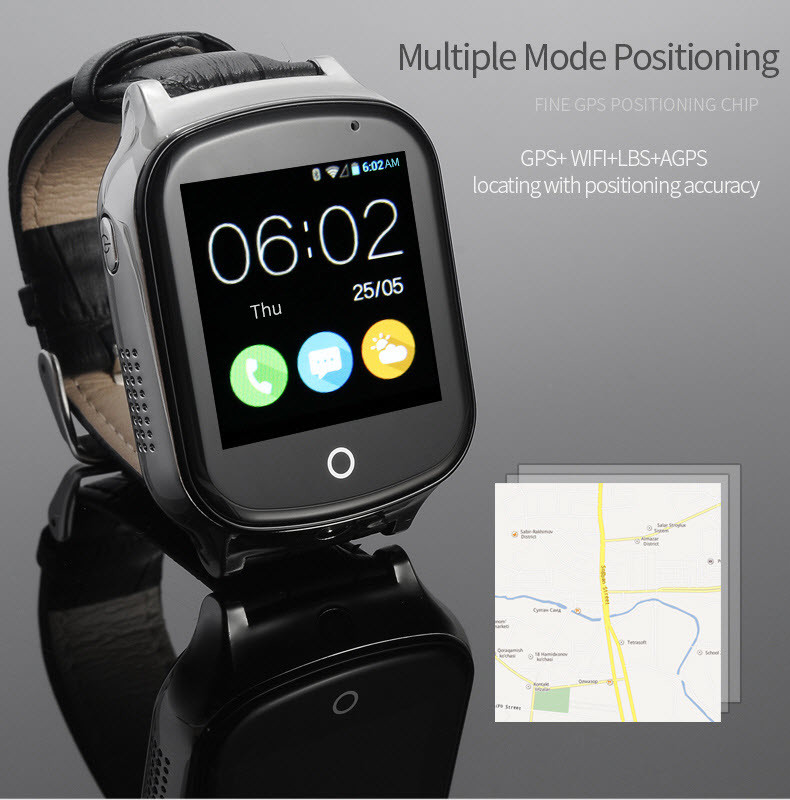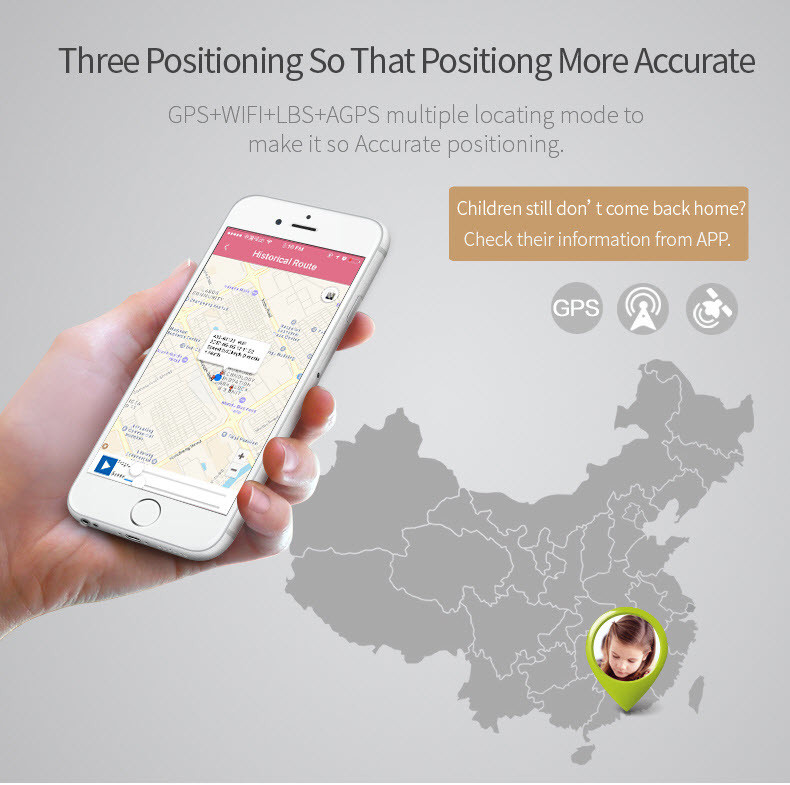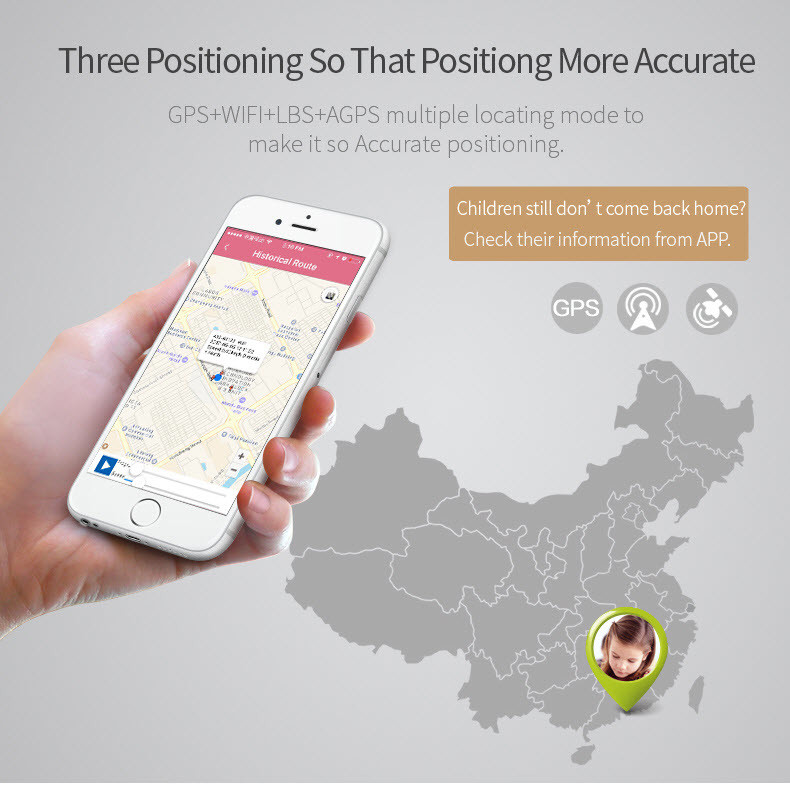 Real time tracking
3 types of working mode. User can select setting in the phone APP software function to choose the working mode.
1. Rapid positioning (1 minute): 1 minute intervals updates location information.
2. Standard positioning (10 minutes): 10 minutes intervals updates location information.
3. Save electricity positioning (an hour): 1 hour intervals updates location information.
Features:
Appearance: The super thin eco-friendly watch band and aluminium alloy watch plate makes it lightweight & stylish & high-end; the special material processing craft makes it super good to feel and pleasant to the eye.
Multiple applications: For kids, adults, elders, diabled and etc.
Free Mobile applicable: Android and IOS system, (lifetime application and platform service for free!)
Long standby time: There are 3 working time intervals optional for the device positioning data uploading : 1 min, 10 min, 1 hour. Interval shorter, battery life longer. Interval 1 min, battery lasting about 1 day; 10 min, battery lasting about 2-4 days; 1 hour, battery lasting about 5-7 days.
Colors: Pink, Black, Brown, Blue
Specifications
1, Structure
Type
parameters
Style
Stylish Watch Design
Frequency
GSM:900/1900MHz WCDMA:900/2100MHz
GSM:850/1900MHz WCDMA:850/1900MHz (optional)
Size
46x36x16mm
colour
Black, Brown
GPS antenna
Built-in high sensitivity ceramic antenna
GSM antenna
FPC
Battery
600mAh
SIM card slot
One slot
G-sensor
Supported
I/O port
USB port
2.Hardware
Chipset
MTK6572A
GPRS
Class12
GPS singals
L1,1575.42MHz C/A code
GPS channels
20 channels
GPS chip receiving sensitivity
Tracking sensitivity:-165dBm,acquisition sensitivity:-148dBm
GPS Positioning accuracy
5~15m
Accuracy base station location
100-1000M
Minimum standby current
<0.5 mA
Average standby current
<2.5 mA
Average working current
<55mA
Temperature
-20~70℃
Humidity
5% to 95% no condensation
Certification
CE, ROHS, FCC and etc.
GPS antenna
Built-in high sensitivity FPC antenna
GSM antenna
Built-in four frequency PIFA antenna
Bluetooth
Supported
G-sensor
Compatible
G-Sensor
Supported
MIC
Supported
Supported OS
Android 2.3 and above, iOS 5.0 and above