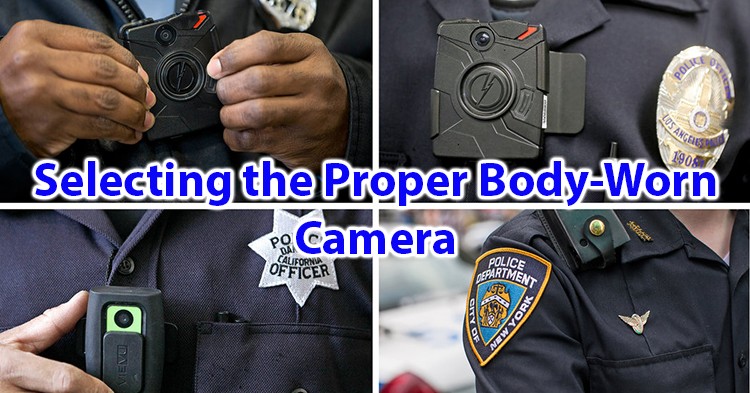 Body-worn cameras come in diverse types, they can be worn and put on different parts of the body which include: head, shoulder and chest. It becomes very imperative to choose the best type of body camera that matches the job to be carried out. It is also good to note that all cameras have their perks and falls, they simply just have to be the best match for whatever job needs be carried out. Back in the days when dock cameras were first introduced to the force, there were many cases of outages. The officers simply didn't want "big brother" riding around with them, watching their every move and hearing their every conversation. Fast forward to many decades later, the officers now beg to have them in their vehicles. They have realized the universal experience and how much often the officers get dragged and involved in cases. Knowing about how much it helps officers to make arrests that end up resulting in convictions, while also preventing frivolous complaints by citizens who simply have grudges against the cops. When body-worn cameras were eventually introduced to the force, there was the initial repulsion from different angles. Most of the reason was the same as the initial "big brother" feeling just as when the dock cameras were first introduced to the police force. But over time it was quickly put aside as research showed a more quick embrace of the program, officers soon saw it as a good technology that could protect them from false complaints-which had become a common thing.
The truth now is that many officers want the body camera as soon as possible. Hence it has become very important to have some lookout features to consider when choosing a body camera, whether you are doing so as a corporation or as an individual. Here are a couple of things to look out for while choosing:
Point of view: whatever viewpoint a camera is taking a video or a picture from is very important, the point of view whatever camera in use captures the footage from could perhaps be the most singular yet most important element of a new body-worn solution for the law enforcement agencies. Whoever is using the camera must be very conscious of the field of view at which the recording is made, this helps the recorder to know perhaps if the camera placement helps or doesn't help the footage being captured. It is important to note that having the camera on the chest, might mean that once the officer gets into a provocative condition that involves a fight, the camera might be tilted downwards which would mean that it would only capture the footwear of the subject. The best area to place the camera is somewhere in the same area as the line of sight of the user. Some areas that could be considered are:

the brim of the ball cap
ear paddle of the sunglasses
epaulet of the uniform
All these areas do a great job of mimicking the line of sight. This is very imperative and lots of cognizances must be put into this.
Durability and reliability: you'd need to ask yourself "how durable is this brand of tech I'm using?" durability plays a huge role is especially determining how long a cam would last. There has to be a balance in your choice of rugged, as rugged could sometimes come with more weight. Having a heavy body cam will be a whole lot of problem, being heavy could make a camera unused since it sends a wrong notion to the wearer and reviewer. There are lots of examples of very sturdy pieces of gear that have been left behind in squad rooms just because their weight is really unbearable and straining. Balance is always a key, always bear in mind how you'd use and how comfortable to wear it'll be also. In a chase, a very heavy body camera will do no good as it will slow you down and make you worn out very quickly. It's important you are able to rely well on your camera to not only record all you see but also not disturb or slow you down, it must act as though it's not even where it is.
Comfort and size: The size of the camera is a very important factor when choosing cameras, having the very small can be very advantageous but being big definitely isn't. As we know when it comes to the comfort and size of a device, the lighter it is the better. It is important that you strive for a balance between total weight, size of the package and how durable it is. Package means the entire set the body camera must be coupled with for it to function. This is the totality of the entire package it could involve about two wires, battery set and perhaps a holder/case. It is important you are careful about choosing purely based on weight, this is to avoid a device that breaks so easily.
Ease of use: it's only natural that everyone wants a device that easy to turn on and turn off also, meaning a no brainer piece of tech is really appreciated. It would be quite difficult when older men need to run a couple of processes to get the cams on or off. Aside from the on-field easy use, it is important to be able to use also when an officer returns from patrol. The officer is expected to spend less time at the office and more time on the street, having a tech that is less complicated could really make them do the opposite of the required. With this it must be noted that the more time consuming and difficult the process is to download the videos, label them, manage them and store them to a central location, then this would imply they will have very little time for everything else.
Back-end data management: This particular term addresses issues like how easy and manageable the camera and its operation is to download, store, share and even retrieval of bulk data. This is when data have been stored for long period of time, but it is of critical importance. This isn't only important for the officers but also for those also in the criminal justice system and after it is very important they are able to easily grasp the concept of the whole thing with just a little explanation. It is important that at any time the video evidence is requested, it is available and this isn't just an officer's job to be running around town to deliver and edit and save. There should be a department in charge of data manipulation.
Pricing: the cost of whatever technology is being purchased must be budget safe, it is very important that this material is not too expensive. The price could be more complex than just actual figured since the need for future upgrade, replacement of part not covered by warranty or even maintenance cost could always spring up. It is also important to note that for some devices that don't cover storage options, more money would be spent on purchasing the storage and even servers for cloud storage. There might also need to employ a staff whose sole responsibility would be managing the data. These are areas where budget and costs also move into.
Multi-mounting option: the officers on patrol need lots of options available particularly on mounting, there should be the option of picking whatever works best for you; it could be: glasses, shoulder, body, hat or collar. Flexibility in options available is a very important major benefit.
Customer support: the body-worn camera, could be quite fascinating and impressive but is still very breakable. The errors of the pasts are being corrected in the new ones being developed, at some point or another you might even require to speak to technical support concerning a problem you might be facing with your device. In cases like this, it is very good you have someone from the company you can talk to and would reply to you promptly. Since obviously the body-worn camera is a device for safety and evidentiary purpose, you'll want answers to these questions coming as quick as possible. This is a very important factor in choosing since technical complications are bound to happen, it is important an expert is ready to attend to deal with them in the timeliest fashion.
Pre-Event capture: sometimes an event could occur so fast just before the camera is turned on, some very important actions have been made. This could include cases like shoving an officer in the chest or perhaps punching them in the face before making a run for it. It is accepted worldwide that when force is required to apprehend, it must be used. Sometimes you have to capture the part of an event you weren't expecting. They usually occur before you can even hit the record button, these are reasons why a pre-record button is very important.
While looking at all these important factors and bearing them in mind, choosing the best body-worn camera for the job becomes easier.
7349 Total Views
5 Views Today