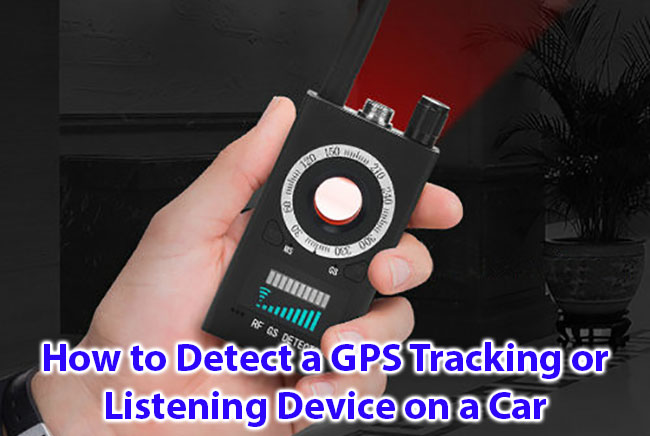 Global positioning system (GPS) and listening devices are tiny little innovations which can help you to spy on others life at the same time your potential haters can use them to spy on you as well. These devices are designed to be so small it can be hidden easily inside or outside of the car without getting the attention of the target person. It plays the role of Trojan Horse through which your enemy is getting a full update of your action not only through your location, but they are also listening to what are you talking about, whom you are talking and what are your plans for future through audio listening devices. So, to make sure you're heading off to your place without being tracked or carrying hidden listening devices, make sure you look out for things mentioned below indeed as they will make any visible or invisible tracking devices such as GPS and listening devices get up in your eyes real fast.
SPY Camera RF Signal Detector:
The first device you can look for is SPY Camera RF signal detector. An amazing innovative product that helps you not only detect GPS tracker but also the wireless video devices and audio listening devices. It's easy to carry, so you can buy one and keep with you in the car and check your car regularly. In addition to that it comes up with the 1500 MAH battery which makes this device work up to 15 hours straight, so you do not need to charge this device all the time. It also has a built-in alarm that will be active when the device is near to GPS tracker, hidden camera or even listening devices. The frequency range it can detect is 1MHZ TO 8000MHZ which will almost detect any bug in your vehicle.
SPY Camera Bug Detector
This product can do multiple works for you, it can detect radio waves, magnetic fields, hidden wired or wireless cameras. It's a complete professional tool which can help you discover that your car is bugged or not. It has simple operation, anyone can use this product easily and it's also easy to carry you can put this in the car or keep in your pocket. It has sound and vibration alarm means when you are searching for the spy devices, and you can choose between sound mode or vibration, it will act accordingly when you reach near the spy devices.
This amazing professional product is highly sensitive, has an adjustable threshold and can track devices in a large range. It has only a switch and sensitivity knob which makes it easy to use a product, it can detect all kinds of hidden devices like hidden cameras, GPS tracker and listening devices. When you are searching your vehicle this device provide you one of the great features it has, the light indicator which will tell you the signal strength so when you are moving towards the spy devices it will show you the right direction and it has alarm system as well it will start to ring when you reach near any hidden spy device. Apart from that, it has 800 mah battery which gives you battery life up to 15 hours, so you don't need to worry about charging all the time.
In conclusion, we need to protect our privacy from attacks of others, in a world where technology is advancing day by day people are finding worst ways to use these innovations of the modern era and that's why this article is presenting you different alternative you can use to protect your private space from evil mind people.
11429 Total Views
1 Views Today