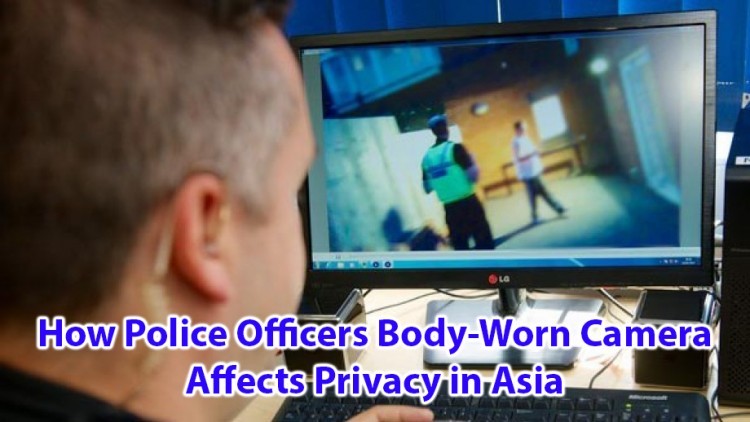 Privacy is the main issue that must be addressed before body-worn cameras can be fully accepted into any system. We all adore and love our privacy, it could cause a stir when figured out we are being watched in our private moments. This has been a major issue in many countries that have tried to adopt the body-worn camera system. But as long as the privacy issue is addressed and solved, there is no justifiable reason to oppose the body-worn camera equipment. According to a south china post, the common use of a smartphone for video recording in a public space has raised some privacy concerns. This is quite understandable, the worse part that really becomes harder to understand is the fact that these recordings made are used for law enforcement purposes.
Having tested the body cameras for quite a while, the police force in China is now ready to equip frontline officers with these recording devices. All these have been mapped to happen with 4 years. As plans for these programs is midway and gradually coming to stay, it becomes very imperative that the police force increase their effort concerning ensuring that they address the concerns of the public concerning these recording equipment. The police force believes that the body camera is a very important law enforcement tool. They believe it has helped tremendously in helping to keep everyone in check and on their best behaviors also. There has been a situation where the tension between the police and the public was calmed by the review of a recording gotten from a body camera. These recordings have also been very useful to present for courtroom cases, they are very great evidence that could really change the state of the case.
There have been cases that involved an assault on a police officer that was trying to carry out his duty, civilians could willfully obstruct an officer of the law. In cases like this, the officer would have to result in using necessary force to deal with the offender. Sometimes later this same civilian could pull up charges accusing the officer of abusing power, cases like this have been experienced much time. Many times there isn't any way to prove the civilian is lying, for this reason, many officers who have done their jobs really well have been punished. With body cameras, recordings can play a very crucial role that would to conviction.
View and perspective
So far we have viewed from the officer perspective, this isn't the full picture of the entire case. This could imply that the public could be denied their right to protest, meaning they are unable to fight for what's right, defend themselves with a peaceful protest when their rights are trampled upon. Some are even prevented from having a peaceful assembly. As these recordings are made and used, it is also important to note their storage and movements.
Some views of the public and their expectations before camera usage are:
Safeguard must be put in place as it will be welcomed
Recordings must be on specific incidents and must be reported to their superiors
If possible, officers should notify civilians before recording
Footage must be handled by a professional team and deleted after a month if it's useless to their investigation
Recordings used for training must be edited to avoid showing any identifiable individual
Hong Kong pan-democrats raising privacy issues due to plans to equip officers by 2021
Democrats in Honk Kong have raised concerns over the plan to completely issue every officer on the frontline with a camera by 2021, the release statement says they are equipping so as to improve the officer's methods of handling confrontations and also public protests. The council debate on this issue, the undersecretary for security John Lee Ka-Chiu, who has been said to be the one to take over as security minister in July. He said the force has been able to conduct two field trials on the body cameras, he said the device has been attached to officers since 2013. Mr. Lee said that for most of the recording, the use of the body cameras have successfully been able to de-escalate situations and had also stopped the subjects involved from overacting.
In several cases that actually involved the assault of the officers and willful obstruction of an officer in the execution of their duties, relating footages are usually brought up and shown and brought as evidence and shown for conviction. This really makes the job quite easy and progressive. This particular part of body camera footage usage has really helped deal with many cases and solve issues that would have been quite impossible to solve without those video footage. "It would have been quite hard and impossible to just adapt and completely begin use of the body-worn camera," Mr. Lee said, "we'd just keep adding it gradually and integrating it into our system and by 2021, all of our frontline officers would be equipped with the body-worn camera technology".
The force over there presently has 1,390 units of such cameras available for the use of officers in the emergency unit. Although the pro-establishment camp supported the idea proposed and suggested that it be implemented very quickly, however, the pan democratic camp asked if the privacy of the citizens wouldn't be compromised, and that has the implementation actually prevented officers from overreacting when handling issues. These are the tactical question they've dropped asking for immediate response. Mr. Nathan law (Demosisto lawmaker) asked: "can you actually put the guidelines on the internet, so we can be very sure that there would be no selective filming?"
A Democratic Party lawmaker James to Kun Sun said he wasn't too satisfied how a recording from on perspective could be used in the court, he felt it could be an injustice to take a case from only one perspective when two parties are involved. While dismissing the above concerns Mr. Lee assured that there were guidelines to the usage of the cameras, he said misusing it has rules against it.
6533 Total Views
3 Views Today