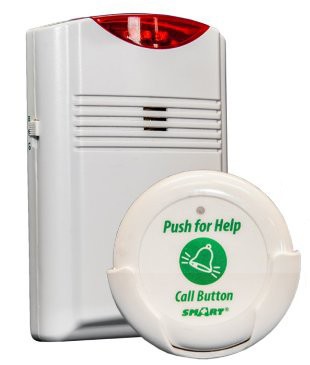 Low Cost Solution
The elderly wireless toilet emergency alarm provides affordable and effective CordLess® / wireless monitoring. Ideal for home or small facilities. Can also be used as a portable caregiver alert monitor in a group home environment.
Easy To Use
The Economy CordLess® Alarm is simple to use. The elderly emergency wireless toilet alarm can be mounted outside the toilet. Caregivers can monitor multiple devices at a central location simultaneously. This CordLess® Fall Prevention Alarm works with nurse call buttons, motion sensors, and the CordLess® Weight Sensing Pressure Pads and Floor Mats.
Remove Noise From The Room
Caregivers are easily notified with bright blinking light that can be seen from a distance. The gentler chime won't startle residents or disturb others and offers QUIETER fall prevention. Place monitor outside resident's room for an even quieter solution.
Features
Affordable and effective wireless monitoring.
Easy set up and operation.
Functions with call button, motion señsor and CordLess® pressure pads and floor mats – Up to Five (5) items can be used with one alarm.
Adjustable volume – the fall prevention alarm has a low, medium and high volume adjustment and gentle chime setting.
Has a bright blinking light that can be easily seen down the hall.
Call Button is able to trigger multi Alarm point
5743 Total Views
6 Views Today