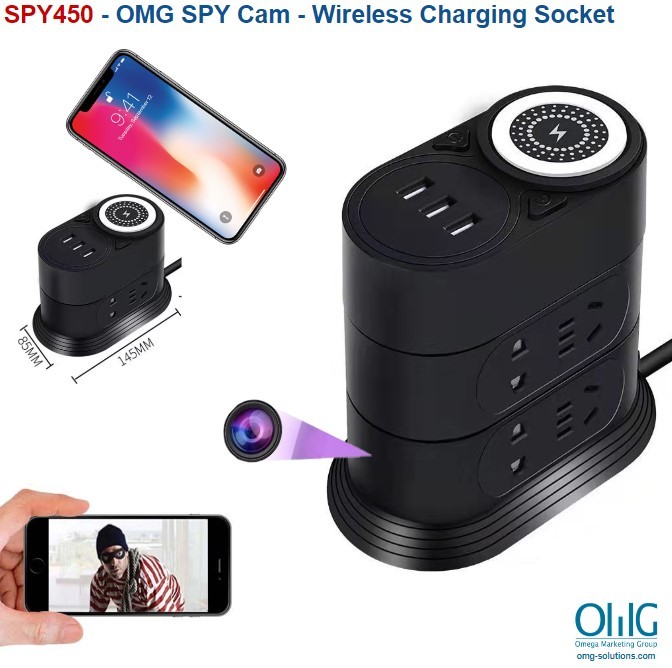 Description:
1. Support 5W, 7.5W, 10W three wireless charging modes.
2. Intelligent breathing light, red and blue light switch, real-time display of charging status.
3. Intelligent recognition of foreign objects to avoid unreasonable power consumption; 5mm sensing distance, 360 random placement.
4. Support AirPods second generation wireless charging.
5. Support wireless charging + data cable charging.
6. The top non-slip silicone design allows free placement of mobile phones.
7. Dimensions: two-layer model: 145x85x98 mm; three-layer model: 145x85x137 mm.
8. Rated voltage: 250V.
9. Rated current: 10A.
10. Rated power: 2500W.
11. Single USB output: 5V 1.5A.
12. USB total output: 5V 3A, maximum output 15W.
13. Total length of socket + line: 0.8/1.8/3/5 meters.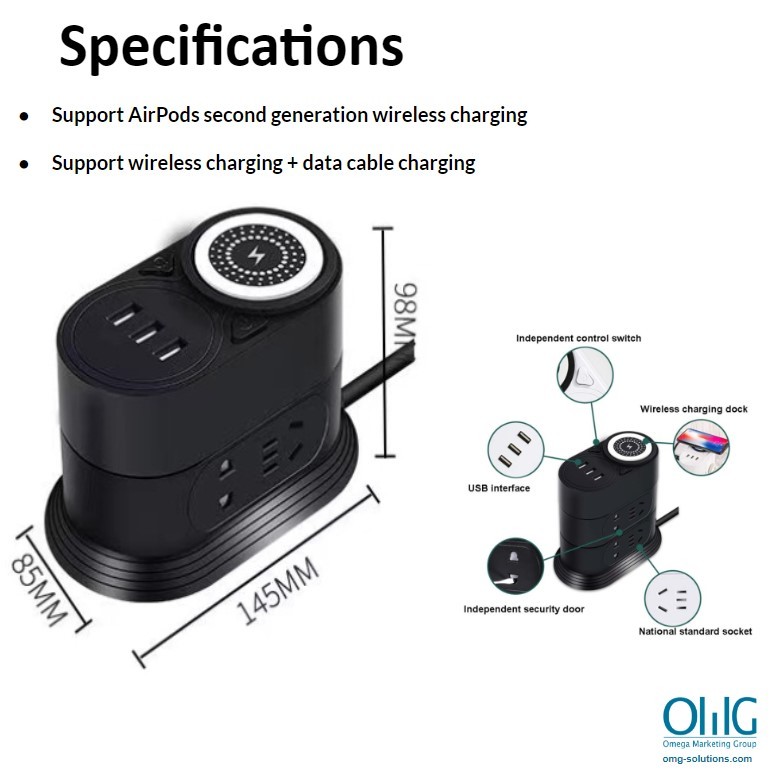 FEATURES
Motion Detection & Recording: Intelligent motion detection, when motion is detected, App alerts with snapshot & record to your mobile device.
Mobile Connectivity: Once connected to WIFI internet, you can remotely access your camera unit. Using the free camera app, you can view and record HD videos by your mobile phone. This allows you to safeguard and monitor property or baby/nanny/pets.
Easy setup: Install the APP on your phone (iOS/Android). You can view the online videos from anywhere on your smart phone with Internet access. Even if there is no Internet access, with micro SD card to record videos.
Easy Installation and Multi-User: You can easily connect the camera to the app, most people are able to set it up within 5 minutes. Compatible with iOS/Android smartphones/tablets.
Capture clear details in full high definition: The security camera records video in 1080p for a clear picture and enables you to see more of your property.
Excellent Live Stream Cam: Thanks to the 1080p and wide angle lens, the spy camera captures details clearly and give you a greater scope of view on everything that's happening. It's design makes it easy to hide/camouflage around anywhere. Perfect as a surveillance camera in: office, home and car etc.
Hidden Small Camera: This spy cam can be used for housekeepers or a nanny, baby, pet, personal security, professional surveillance or body safety use.
Safety Care: Protect family and personal property – Our hidden spy camera allows you to monitor unfaithful partners, children, landlords, tenants, roommates, nanny, elderly parents or employees at home, bedroom, hotel, work, office, hospital or any other place.
54 Total Views
1 Views Today