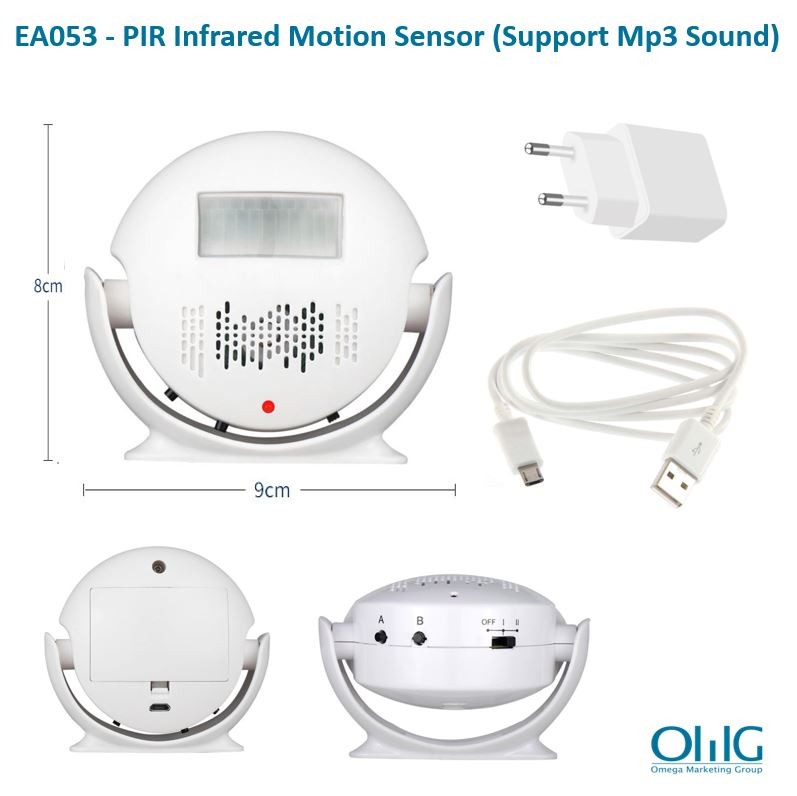 This player adopts the technology of infrared pyroelectric induction principle. When people enter the sensing range, it will play sound. Sound files can be changed by yourself. How to change sound files? It has a micro USB interface, connected to computer by USB data cable. Then copy MP3 sound files from computer to this player. It's very easy.

Features:
Infrared motion sensor detection.
Audio files will play automatically after the PIR sensor detects people.
Support any MP3 sound file playback, single track or sequential play.
Built in 32Mbit (4MB) flash memory.
Support voice replacement, download sound files from computer by USB data cable.
Micro USB interface: support 5V DC power adapter; data transmission function
Two power supply modes: 3 dry batteries or usb power.
Built in 29mm 8O1 watt speaker.
Power-off memory function
Volume adjustable
Parameters:
Power supply: External DC 5V power or 3pcs dry batteries(DC4.5V)
Working current: standby state=120uA,playing state =200mA
Audio format: MP3, sample rate: 44.1Khz/320Kbps
Audio output power: 8O/1W
Infrared sensor range: =4m(45 angle)
Working temperature: -10~35?
Working humidity: 10~85%RH
Volume(play sound): 90dB
Installation:
Side wall mounted: Installation weight is about 1.5 meters above the ground. It is the best for the sensor to make 45 angle with the ground.
Ceiling mounted: About 3 meters above the ground is the best. Sensor should be parallel with the ceiling.