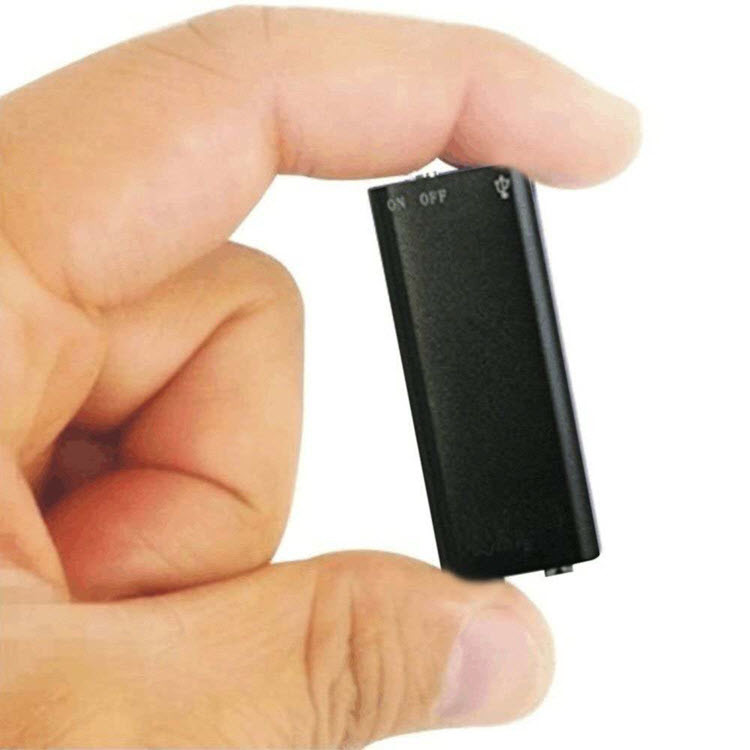 SIZE AND MEMORY- Recorder Dimensions 45 x 17 x 5mm (1.77″ x .66″ x .01″) making it small, easy to carry. — 8GB USB flash drive and recording for about 96 hours, audio recorder and a quality MP3 player. Features auto save so your recordings are saved instantly.
SUPERIOR SOUND QUALITY EVERY TIME – Operation is simple and straightforward – switch the device on and it starts recording after a few seconds, turning it off and then on again starts a new file. When the earphones are plugged in, it automatically enters playback mode and you can review your files. Great for documenting dictation, meetings, lectures, seminars, etc.
CRYSTAL CLEAR – Compatible With Mac and Win 10 System, Supports USB 1.1/USB 2.0, Equipped to pick up the faintest noise/voice from a substantial distance, able to provide a nice, crisp recorded carbon copy of the audio you wish to record.
PLUG AND PLAY – No confusing software needed, instantly upload files to a PC or other device & then fast-forward to the point of focus for a recording. Supports U disk function.
100% Committed to the Customer Satisfaction- We are happy to assist you as your satisfaction is our number one concern, if issues are not solved, please contact us.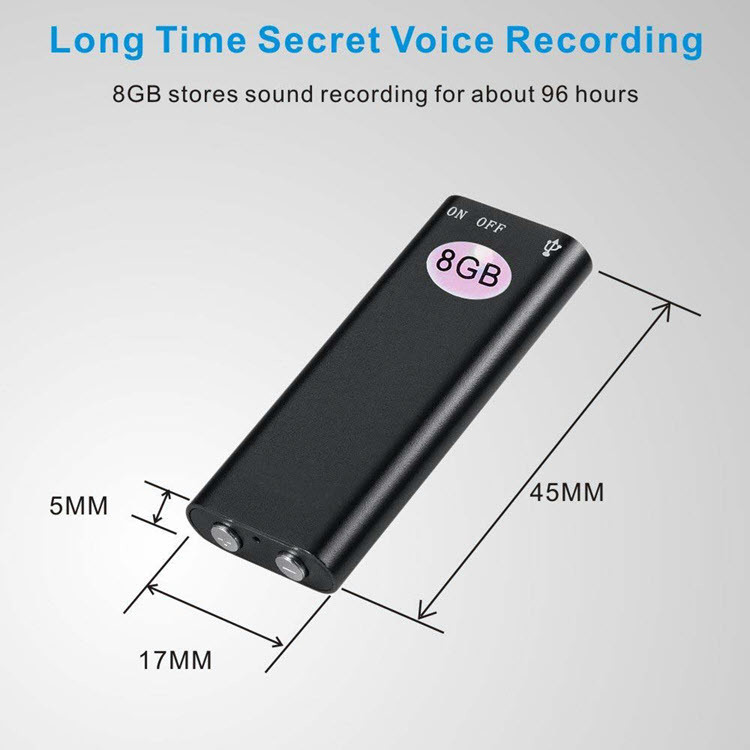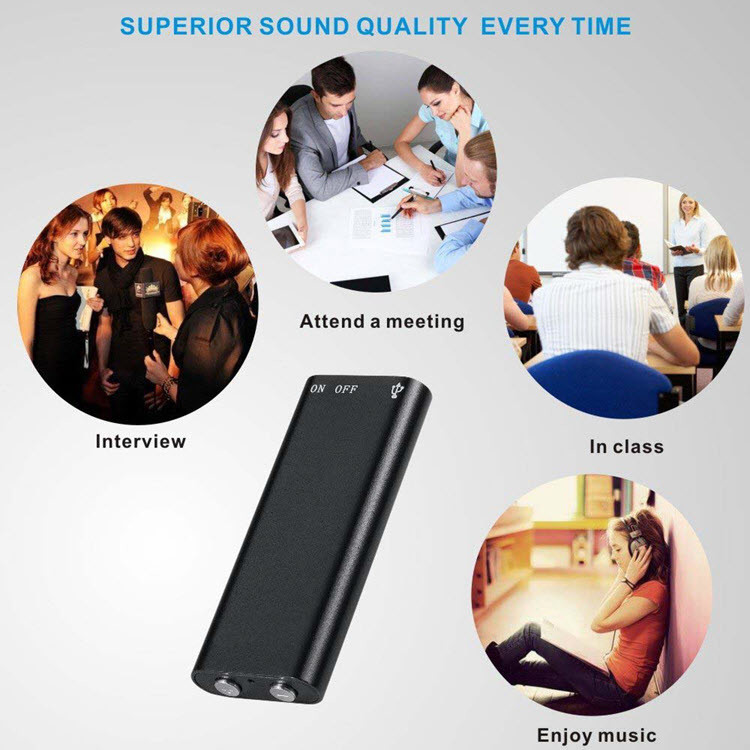 Product Description 
8GB Digital Voice Recorder / MP3 Player Flash Drive, USB Rechargeable
Do you looking for a portable and practical digital recorder?
This is a great little recorder offers long play recording,
which allows you to record detailed conversations with excellent background noise cancellation and get crisp clear recordings every time.Functional parameters:Battery capacity: About 8 hours continuously recording, 14 hours audio playback.
1. 8GB USB Pen Drive Digital Audio
2. USB 2.0
3. Easy to use On/Off switch
4. Memory 8GB Record
5. Record Formats: WAV
6. Playable Music Formats: MP3/WAV/WMA
 Operation is simple and straightforward
Instructions for use:
1. Switch to ON, wait for small LED indicator light to flash, after a few seconds the flashing stops and the recording begins.
2. Switch to "OFF, the LED indicator light will flash and save the recording. Turn on and off between each new file.
3. Plug in headphones, switch to ON to play recordings or MP3s you load from your PC, press the" -" button switch to listen to the audio file.
4. Press the "+" key for the next song.
5. Long Press "+" to adjust the volume louder, long press "-" to adjust the volume lower.
6. The USB cable connection will allow you to add and remove files from the device and to and from your PC. It recognizes file formats MP3, WAV and WMA to easily play your favorite music.
7. Allow 10 seconds for the recorder to complete buffering between audio files playback.
NOTE: Plug the voice recorder tight into the USB before charging. Turn it off to stop the recording. Plug in headphones and turn it on to instantly playback the recording or MP3s you have placed on it.
Packages: 1 x Mini USB Player
1 x USB cable
1 x Earphone
1 x User Manual
Product Information
| | |
| --- | --- |
| Product Dimensions | 1.8 x 0.2 x 0.7 inches |
| Item Weight | 0.3 ounces |
6879 Total Views
11 Views Today