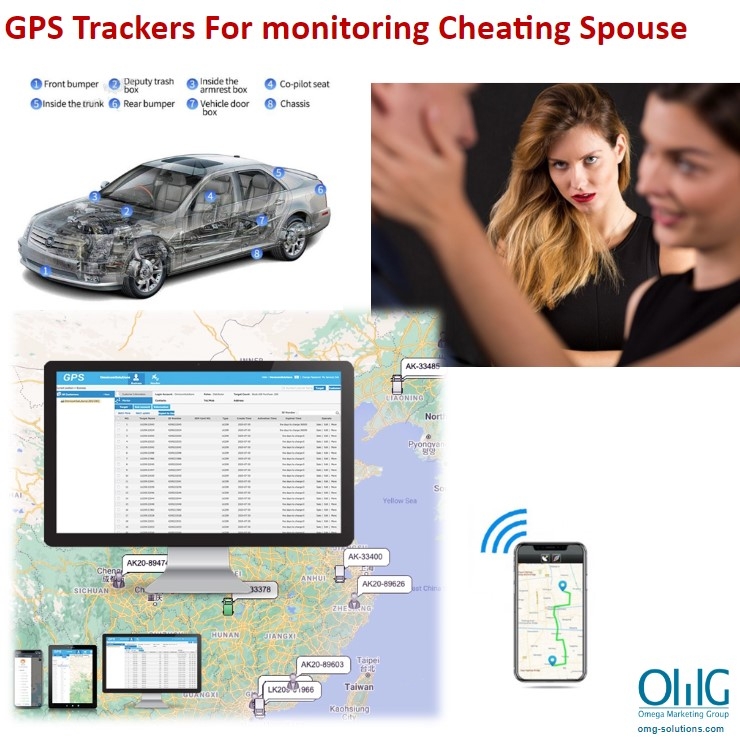 If you have decided to track your partner, you should buy the best GPS tracker to trace them. So considering all the good features that an ideal tracker should be composed of, we have a curated list of the best GPS trackers that would help you out your cheating spouse.
GPS051D (Battery Life 1 Weeks) – $328
GPS13D-C (Battery Life 3 Weeks) – $388
GPS013D-C – 3G Car Tracker: https://omg-solutions.com/gps013d-omg-hidden-spy-vehicle-car-magnetic-gps-tracker/
GPS051D – Car Tracker: https://omg-solutions.com/gps-tracker-device/gps051d-omg-portable-gps-magnetic-spy-vehicle-car-tracker/
– 6 Months warranty in Singapore
Product Details
The device will require a SIM card with voice & data.
Support both 3G/4G prepaid & postpaid sim card from Starhub $15 for 6 months tracking.
Support Google map (Can be use in any part of the world).
Device can tracker for about 5 day – 10 days tracking depending on upload timing.
No subscription fee, free access to portal for map access with 90 days historical tracing and real-time tracking for live.
No Installation Required – Is magnetic, just put below the car, charge every 5-7 Days
How to Place an Order?
When to use a GPS Tracking Device for Cheating Spouse?
When you doubt your spouse cheating on you, the first step is to have a proper discussion with them and ask them the reasons for such change behavior. It would be the best option to save time. You both could make the right decision without any nuisance.
If your wife/husband won't agree about things not working out and their behavior continues to be the same, then you might want to take matters into your hands. That's when you go for a GPS tracker. But you need to be familiar with the law before tracking your partner.
Why do you need a tracking device for a spouse who is cheating?
To confirm your suspicions: When you are unsure whether your husband or wife is cheating, you tend to make different perceptions about them. You will overthink and constantly make plans to catch them. Having a GPS tracker will clear all your doubts without much effort.
To save time, money, and effort: It takes a lot of time, expenditure, and many attempts to find the truth about your spouse's infidelity. You will look for different measures to catch them red-handed. And you will only be grasping at the end of the ropes after putting in all that effort. Using a GPS device to track a cheating spouse will save time, money, and energy and give you quicker results.
To keep it a secret: While monitoring your spouse you have to make sure to not get caught. The chances of catching them cheating will reduce if they are aware of you keeping an eye on them. A tracking device will assist in finding the truth discreetly.
Tracking anytime you want: You can check your spouse's locations at any time and anywhere with an efficient GPS tracker. After all, finding someone bang to rights is what you want when you buy a GPS tracker.
To stay carefree: While spying on your spouse, you want to be free-minded. You don't want to keep guessing about them being with someone else while you are busy at your home or office. A GPS tracker lets you stay calm and check your spouse's location once in a while.
You can use them in the future or for other purposes: Once you find out about your spouse's innocence or guilt, you can keep the tracker for other security purposes for your family. You can use it for family members' safety or the vehicles in your house.
Best GPS tracker for cheating spouse: Things to consider before buying
To find out whether your spouse is cheating, you must have a GPS tracker that is fully functional and does all the ideal tasks required. Here are some of the factors to consider before buying the best tracking device for a spouse:
Real-time tracking: Before you go for a GPS device that tracks the activity and location of your spouse, you have to ensure that it has a real-time tracking function. A real-time tracker has several functions and information to offer like tracking the route, locations visited, time spent in a particular place, etc. It is the best feature of any efficient GPS tracker, so make sure it is available in yours.
Size: The size of a tracker you want to hide for spying should be compact. It should not be very bulky or heavyweight that you can put anywhere your spouse won't find out. To find out the best smallest GPS trackers.
Battery life:  A GPS tracker for spying must have a long battery life so that you can keep track of your spouse for a day or two without any disturbance. The longer the battery life, the higher are the chances to know their reality.
Good storage: The GPS tracking device should have a good data storage capacity. You should be able to check the old data whenever you desire. It will let you compare the behavior by comparing the place he visits before and the places he's stopping by now.
High range tracking: Your spouse can travel a long distance with someone without letting you know. They may lie to you about going on a business trip. You can easily trace or locate them if you have a high range GPS tracker even if they travel to a long-distance or the place they didn't tell you about visiting.
Waterproof and breakproof: You might want to hide the tracker in a place, for instance, under a car, where it could get drenched. You might place it along with the heavy luggage where it has chances of breaking easily. Find a sturdy tracker that is waterproof as well as breakproof.
Accessories: A fine customer-focused GPS solution company would provide all kinds of add-on services and accessories to help their customers use their products. Compare all the brands for providing relevant accessories along with the tracker. Accessories like free connection cables, extra batteries, and casing (magnetic) can give a good user experience.
Easy to hide: The GPS tracker should not emit any light or make any sound. Even if it has a flashing LED light, it should have the option to turn it off. It should be a dark-colored device that is not easily visible to the eyes. To find out the best-hidden GPS trackers.
A dedicated App: The tracker should have a dedicated app for Android as well as IOS devices. You are going to surveil your spouse from anywhere you want, therefore you should be able to access the data from your cellphone or tablet.
Vehicle Speed and braking report: A driving behavior of a person tells a lot about them. You will recognize their change in driving style while returning home or while you have texted or called them. They will become anxious by the idea of getting caught just by a simple phone call or text. Because of this sudden call or text, they might speed up or drive rashly.
Value for money: Even if a GPS tracker is a bit costly, it should provide all the general features so you can use locate or track your spouse whenever you want.
A 24×7 tech support:  Some companies offer direct phone support and some via live chat or email. GPS Tracking devices are advanced technical devices and require at least basic tech knowledge. Make sure the company offers start-up assistance and support while you learn how to manage your device. Moreover, it should have a warranty of at least one to two years. Make sure the company offers the provisions for the return of faulty items and that the device will operate properly without causing any problems.
919 Total Views
2 Views Today