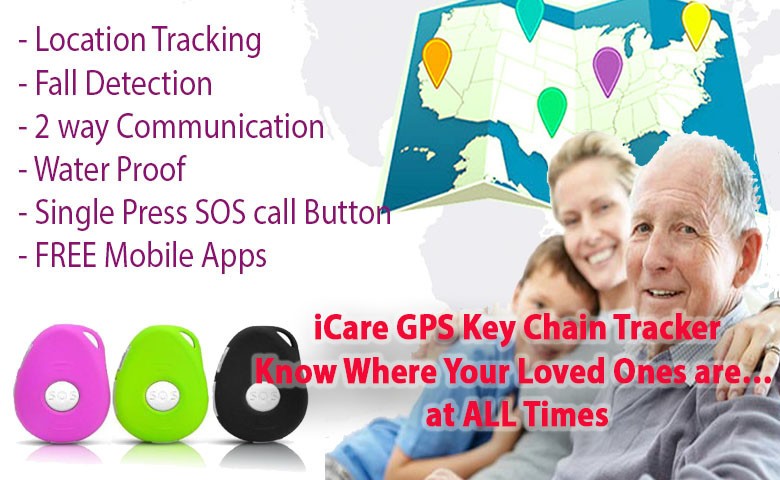 Why Us? Free Access to Tracking App – Android, IOS & Web-base Portal (Free lifetime subscription for Home User – No Monthly/Yearly Fee). 
iHelp Adult GPS Tracker Device can real-timely monitor the status of the seniors, when there is a fall, iHelp can automatically trigger a SMS and call to 5 family members, so that aid can be provided immediately.
The iHelp Adult GPS Tracker Device helps families and the senior suffering from memory-related problems. If you have a parent or family member who shows a consistent pattern of forgetful behavior, or may struggle living an independent life, iHelp Adult GPS Tracker Device will make your life easier and less stressful. iHelp is extremely valuable because it will alert you or record if an senior person is:
* Wandering off or lost in a familiar or unfamiliar location.
* Safe inside or around their home.
* GPS tracking systems can provide certainty, safety, and security that can make the difficult road of memory-loss a little easier and less stressful for everyone involved.
If the elderly feel unwell, he/she can press the Call Button for three seconds to make a calling to the related phone. iHelp Adult GPS Tracker Device transmits SMS by GSM wireless network. iHelp is small, elegant and portable. It is an intimate partner for elderly.
iHelp – Adult GPS Tracker Device

Fall Detection
Detect fall accurately with multiple sensor algorithms

Location Tracking
Single Press to Call
Elder is able to communicate with family member during emergency with a press of a button.
Convenient to wear/ bring along, simple and practical


Mobile Apps for Monitoring
Simple Apps, power features
3 Different Color
Features
1. The world smallest 3G (WCDMA) personal/asset GPS tracker.
2. A docking station provides an alternative method to charge and make it a lot quicker and easy to use.
3. Real time tracking by GPS satellite.
4. Tracking by RF (not available now)
5. AGPS, TTFF in 30 seconds (10 seconds for GPRS included).
6. Fall down alarm for children and elderly, patient.
7. Built-in Vibration sensor.
8. With rechargeable 900 mah Lithium battery.
9. Built-in 3D G-sensor for motion, shock alarm and power management.
10. Voice monitoring.
11. Two way Voice communication.
12. Data logging: 60000 locations.
13. GPRS blind area data re-upload function
14. Firmware upgrade over the air.
15. Reply map link of current position.
16. SOS emergency button.
17. Geo-zone alarm, Over speed alarm.
18. Movement alarm.
19. U-blox GPS technology.
WCDMA Specification
WCDMA Module: Telit UL865 ( 900/2100MHZ and 850/1900mhz ), 3G (WCDMA)
Supported Bands
EUx variants:
2 Bands GSM / GPRS / EDGE 900 / 1800 MHZ (2G)
2 Bands UMTS / HSPA 900 / 2100 MHz (3G)
* North America variants:
2 Bands GSM / GPRS / EDGE 850 / 1900 MHz (2G)
2 Bands UMTS / HSPA 850 / 1900 MHz (3G)
* Communication: Embedded TCP/IP over GPRS class 10, SMS messages, Voice
* Antenna: Built in FPC antenna
GPS Specification
* GPS chipset: uBlox 0702(AGPS Support)
Channels: 50
* Receiver frequency: 1575.42 MHz
* Cold starts: approx 32S, typical TTFF (95%)
* Warm start: approx 32S, typical TTFF (95%)
* Hot start: approx: 1S, typical TTFF (95%)
* Antenna: Built-in ceramic antenna
Hardware Specification
Charging voltage: DC5V
Backup battery: Rechargeable, 3.7V, 900mAh (Li-Poly)
Connectors: Micro USB connectors
SIM card: Micro SIM card
Accelerometer: Built in 3G motion sensor
Flash Memory: Built in 8MB memory
Normal current consumption: 40~60mAh
Sleep current consumption: 5~10mAh (GPS off)
Environment
Operating Temperature: -20°C to +80°C
Storage Temperature: -40°C to +85°C
Humidity: 5%-95% non-condensing
Mainframe Dimensions: 61mm X 44mm X 16mm
Weight (NET): 35g
Certificate
PRICE: S$298
Price Include
* 6 Months Warranty

* FREE Docking Station + Lanyard
* FREE Training (Self Collection)
* FREE Device Setup (Self Collection)
84281 Total Views
9 Views Today