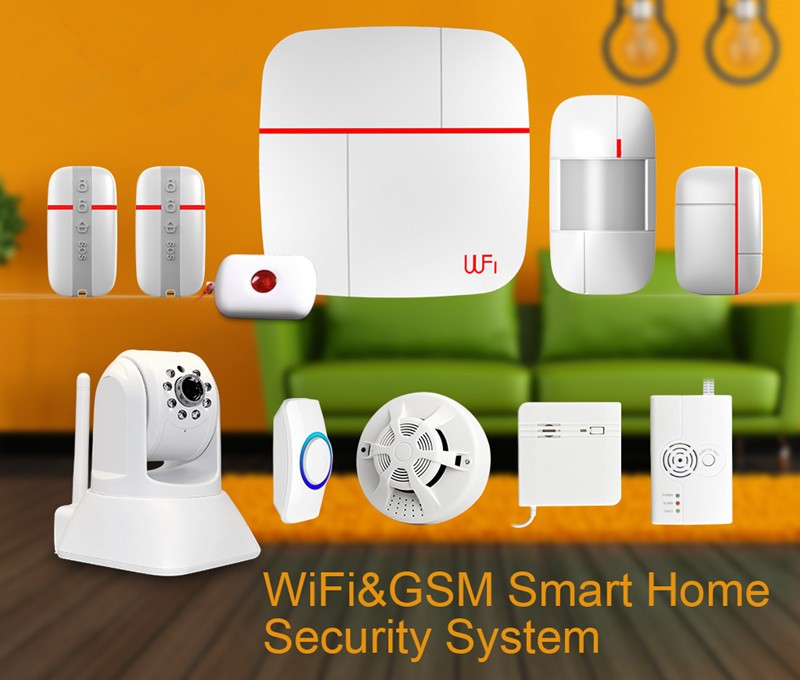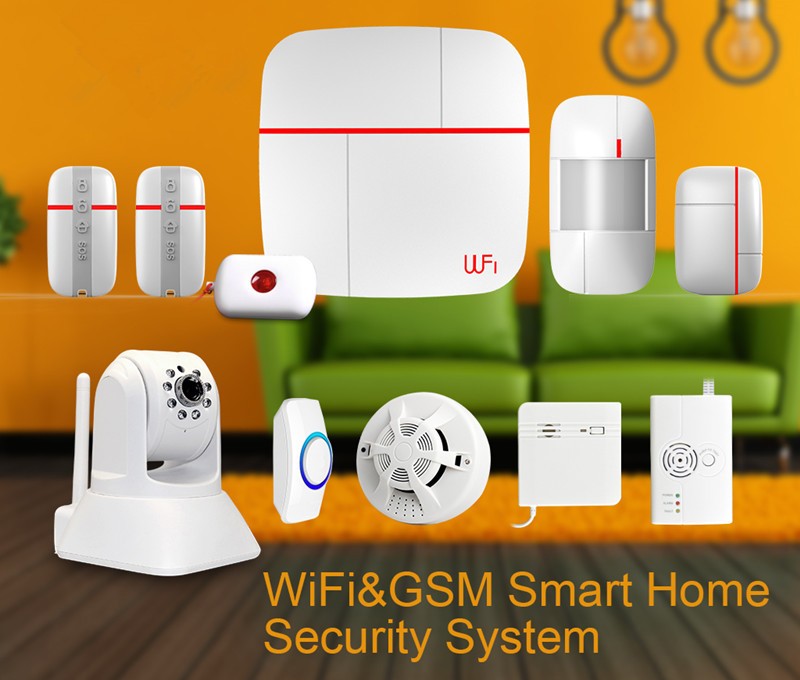 vCare is a Elderly Home Security Alarm System, which combines home security, healthy life and elderly care. It transmits alarm information through dual network of Wi-Fi and GSM, simple, safe and fast.
Wherever you are in office, or on a business trip at abroad, vCare is with you. You could know the status of your smart alarm system, monitoring what's happening in the house, keep close to your parents, even what's the humidity and temperature indoor and outdoor. vCare make you enjoy a safe and smart life.
Main Functions
1. All the setups through your smart phone Apps, android and iOS App, clearly and easily.
2. It's able to add maximum 100 users.
3. Comes with 3 SMS text message numbers and 3 call numbers.
4. Comes with 99 wireless zones, 8 fire alarm zones, 8 emergency zones, 8 medical calls, 4 water leakage zones, and 2 wired zones, 20 remote controllers.
5. Adding extra sensors by scanning QR code, it's more easy and convenient.
6. Two-way communication.
7. With IP Camera moniotoring.
8. Built-in timely arm, disarm and setup home mode function. (maximum 3 different time.)
9. With self-detecting temperature, humidity and be able to setup over-temperature alert.
10. WIFI failure or GSM network failure alert.
11. Door/window open alert.
12. Monitor the status for the sensors.
13. Remind of the sensors with low battery.
14. Delay alarm, delay arm and delay disarm (0 to 99s for optional).
15. The ringing time of the siren is able to DIY setup.(0 to254s or keep warning).
16. With wireless emission function, control 99 wireless sirens.
17. Remote control via text message and phone keypad.
18. With Home mode setting.
19. External power fail or recovery remind function.
20. Siren remind when arming, disarming by remote control.
21. SMS remind when arming, disarming by remote control.
Parameter
Material: ABS Color: White + red
Power Supply: AC-100-240V 50Hz/60H output: DC12V/1A
FR between panel to sensors/remote controllers: 30 to 50 meters indoor, 100 meters in the open area. Working consumption: <1.2w
GSM network: 900/1800/850/1900mhz
Backup battery: 7.4V/800 mah.
Working condition: Temperature: -20 ℃~ +55℃ Humidity: ≤90% Size: 14.7cm*14.7cm
Smart Phone APP Android & iOS
Package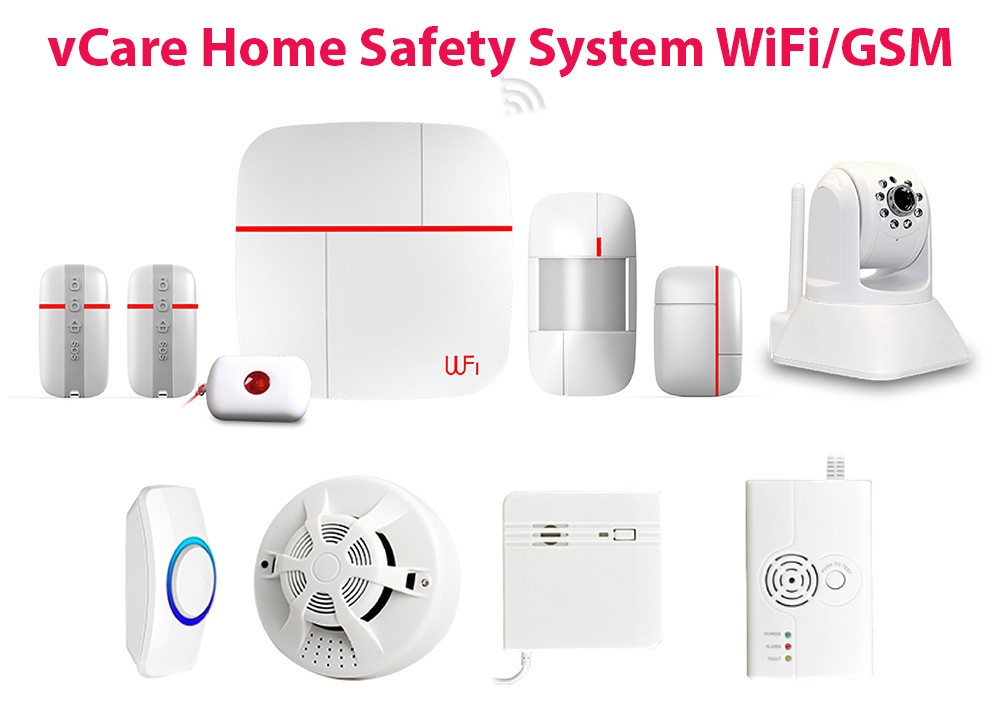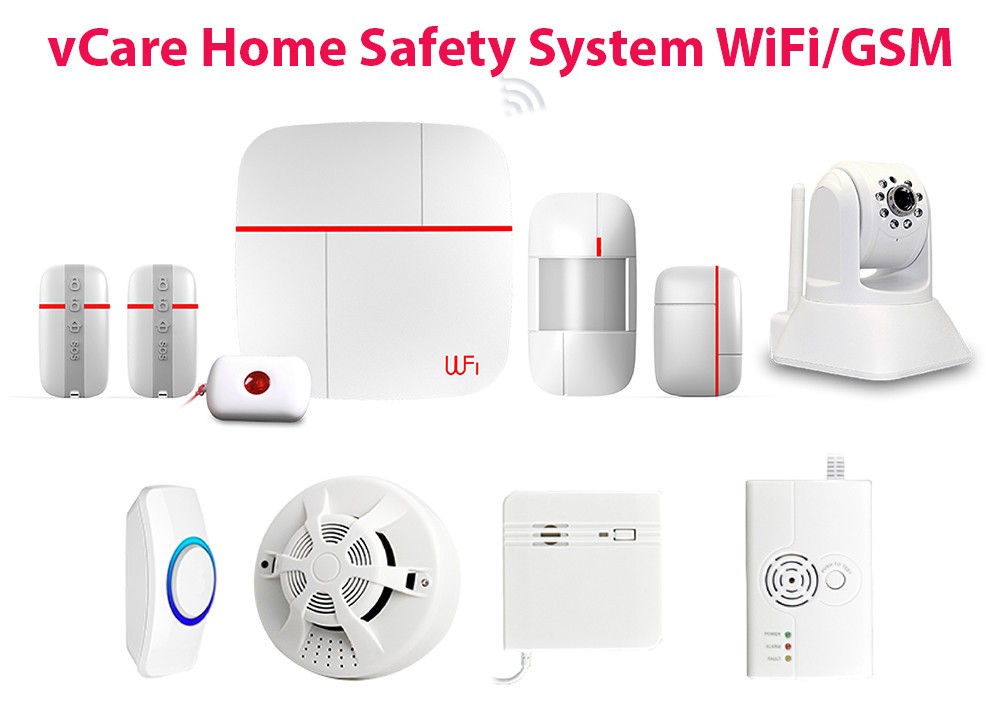 1 Panel, 2 Remote controllers, 1 Panic button, 1 Motion sensor, 1 Door/window magnetic sensor, 1 HD IP camera, 1 Smoke Sensor, 1 Gas Sensor, 1 Water leakage sensor, 1 strobe siren
13615 Total Views
3 Views Today