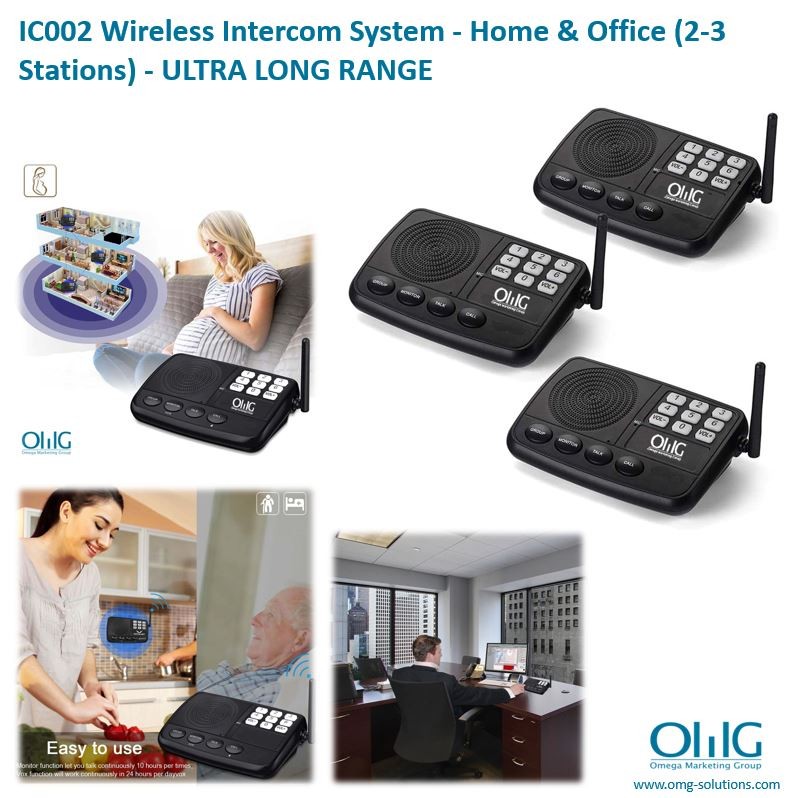 7-Channel Latest Version Instant Intercom system; Effective distance Approx. 1500 feet
Individually Monitor, Talk and Group,Call function; monitor function (or lock function) can monitor 10 hours once, Group function (conference call function) can call all the stations in you house or office.

Crystal clear, secure digital communication,Connect ability to other walkie talkies.

Channel can be assigned after press channel number for 5 seconds. Channel can be return to their "assigned" channel in 45 seconds after a conversation concludes.

Package including : Intercom unit x 3 * Power adapter x 3 * USB Cable x 3
Product Description
Features
Easy set up, No installation requirement. Can move to different room: Instant intercom system
Quick and easy Direct CHANNEL select buttons – easy identification of designated stations.
Multi-Channel (7 channel) – Support up to 7 channels will be provide to you for calling family or office members, delivering announcements, or emergency calls. It can be choose one to one communication or one to all simultaneously. Large TALK buttons for easy PRESS to talk monitor function continuously 10 Hours once
Effective distance Approx. 1500 feet
Product Advantage: 30 + years of wireless intercom home system technology produced by our leading factory.
Pass Safety Certification: The wireless intercom system passed FCC, CE, ROSH Certified.
Long Range and Multi-Channel: 2017 new release Effective distance Approx. 1/2 mile long range (in ideal situations) 7 channel secure wireless intercom system. It integrates the latest technology to be the most trusted intercom system for home and office .
Individually Function and Easy Using: Powerful and Individually Function, Monitor, Talk, VOX (Voice Operated Exchange), Group call function. Monitor function can monitor 10 hours at once. Group function (conference call) can call all the stations in intercom system. VOX (Voice Operated Exchange).
Voice Crystal Clear and Secure Digital Communication: Duo to anti-interference signal technology and secret digital channel, the wireless intercom system works perfectly for you in any place., secure digital communication,Connect ability to our walkie talkies and wireless intercom doorbell system.
Wide Using Range and Support by Power Bank: This wireless intercom system can use in a wide rang, home, office, outdoor etc. It can support by power bank(5V 1A) so you can take devices to any place you want. And it can work with other brand devices by the same digital channel code.
Frequency Range: 462.6250 – 467.6125 (MHz)
Digital Code (1/2/3): 734N/732N/731N
Unit size: Approx. 7.2 x 4.8 x 1.0 inches
Power source : Mains AC Power only, (Plug-in AC adapter is included)
What's in the box: Station unit x 3 * Power adapter x 3 * USB Cable x 3
Family Application
You can mount the intercom on the wall, or place them on a desktop or table
You can setup different numbers for each intercom or at same number
You can choose one to one communication or one to all simultaneously
You can talk with two way radio if you change radio frequency to Intercom requirement
You can use mobile power pack if necessary.
Office Application
Different department or room set different Number Communication between the reception and other peopl

e

Communication between the security staff and other people

Emergency Notice

Quickly meeting system

Certification: FCC, CE, ROSH
Product Information
| | |
| --- | --- |
| Package Dimensions | 9 x 8.3 x 5.7 inches |
| Item Weight | 3.5 pounds |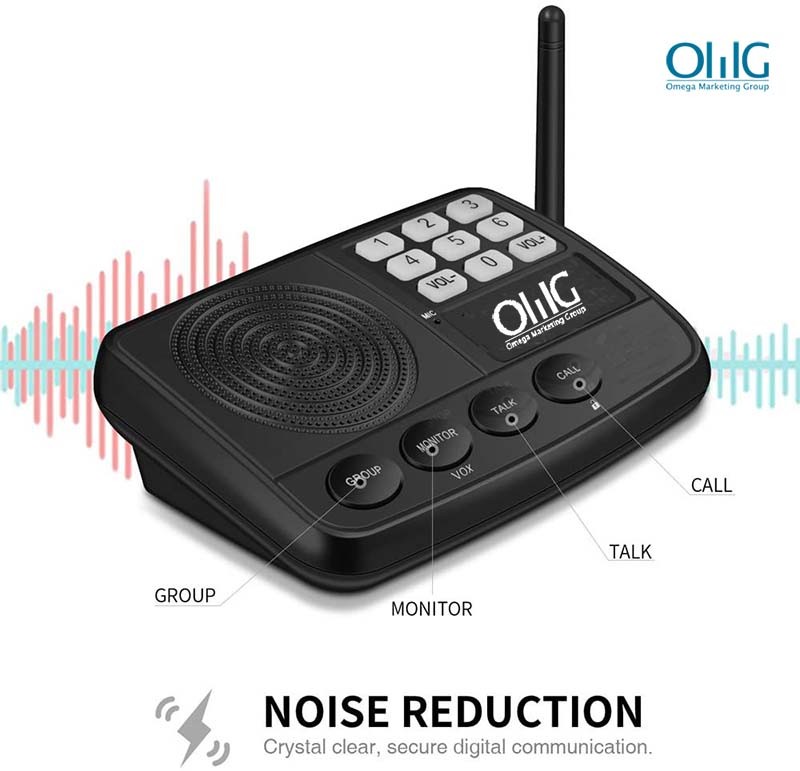 Quick Start Guide
Overview
1. Intercoms in each system must be set to the same frequency using the digital code switch (1, 2, or 3) on the back (next to the micro USB power connector).
2. Intercom station in a system must each be set to same or different channels (1 thru 6, and 0) using the keypad buttons.
3. Stations can be used to either talk or listen; however, one cannot talk and listen simultaneously.
4. The "Monitor" "VOX" button sets the station to constantly monitor by other stations on the same code and same channel for 10hours.It also has Voice Activated Exchange "VOX". When (VOX) is set it will only transmit. The microphone is sound activated on and the station will not receive. See "VOX"in "Note" section below.
Setup
Step 1: Plug the intercom into power outlet using the AC adapter or 5V USB port.
Step 2: Make sure all the intercoms, to be connected, digital code switches are set to the same code,(default is #1).
Step 3: Each intercom station must be set to a channel. Set each intercom's station channel by pressing and holding one of the 7 channel buttons for 5 seconds until you hear the BEEP. You have successfully set the channel when the channel button lights. (default is #1)
Operate
CALL: Select the channel button you want to communicate with and press "CALL". After 1minute no usage and the operating channel will return automatically to the home channel.
TALK: Press and hold "TALK" to talk. Release the "TALK" after finished talking to listen for response.
MONITOR: Press "MONITOR", this intercom will be monitored for 10 hours by other intercoms set on the same code and same channel. it is one-way communication. Press any key to release the monitor mode.
VOX: Press and hold the "MONITOR" button for more than 5 seconds until you hear the BEEP, the unit enter "VOX" mode. To cancel by pressing the "MONITOR" Monitor button again.
(100% voice-activated and be heard by other intercoms set on the same code and same channel. and work constantly until canceled. it requires the voice higher than 30DB and the distance need less than 30cm).
GROUP: Press and hold "GROUP" button can talk to all of the intercoms.
Volume: Press "VOL -" to reduce or/" VOL +" to increase the volume.
6292 Total Views
3 Views Today